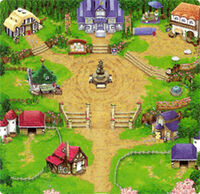 Bluebell
is a European-style town. It is more centralized than
Konohana
. Bluebell specializes in animals, though you can still grow crops in Bluebell. The town hall is located all the way to the north in the town. South of the main town is the Church, where you will have your wedding if you decide to court a spouse.
Villagers
There are 15 people living in Bluebell:
Shops
Jessica's Livestock (10:00am - 5:00pm Closed Wed)
Cam's Flowers (10:00am - 5:00pm Closed Mon, Thurs, Fri)
Howard's Cafe (10:00am - 10:00pm Closed Thurs, Festivials)
Grady's Animals (10:00am-5:00pm) Closed Mon,Thurs, Festivials)
Diego's Genral Store (8:00am - 8:00pm Close Saturdays, Festivials)
On bad weather days shops will be closed.
Town-Specific Festivals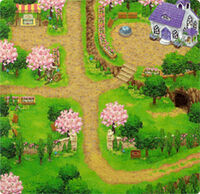 Spring Harmony Day
Animal Festival
Bare-Hamded Fishing Contest
Star Gazing Festival
Pumpkin Festival
Winter Harmony Day
Starry Night Festival
Features at Farm
Bee Hives
Cheese Maker
Yarn Maker
Drink Maker
Pet Playpen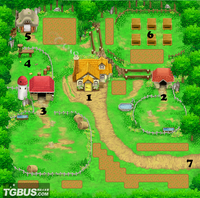 Farm Expansion
There are many different additions you can get at the beginning of each season if you are not doing one of the fixing tunnel quests. 
Extended barn and pasure (3)
Pet Playpen (4)
Ad blocker interference detected!
Wikia is a free-to-use site that makes money from advertising. We have a modified experience for viewers using ad blockers

Wikia is not accessible if you've made further modifications. Remove the custom ad blocker rule(s) and the page will load as expected.