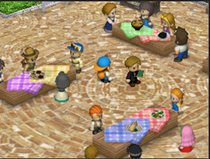 The Cooking Festival is an annual event in Harvest Moon: Back to Nature. It is held on the 22nd of Spring, between 10:00 am and 2:50 pm, in Rose Square.
The Cooking Festival is an annual competition to see who cooked the best dishes. The player must give any cooked dish to Thomas to join. After giving it to him, the dishes presented by participating villagers and also by you will be judged by Gourmet, who will then announce the winner.
Since players don't have access to the kitchen in the first year, they might not be able to compete in the Festival. However, they can still enter the competition if they bring store-bought Grape Juice from Aja Winery (though they won't be winning the competition).
At the 15th of Spring, Mayor Thomas will ask you to bring 3 vegetables (depends on what year). You might decline or accept. If you accept, it's on to you to bring the vegetables to him on the 21st of Spring or not.
Ad blocker interference detected!
Wikia is a free-to-use site that makes money from advertising. We have a modified experience for viewers using ad blockers

Wikia is not accessible if you've made further modifications. Remove the custom ad blocker rule(s) and the page will load as expected.