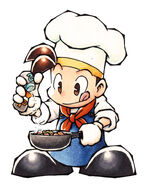 Cooking
is one of the key elements in Harvest Moon series. Cooked foods generally sell more than the raw Ingredients, and can be given out as gifts to befriend villagers.
List of Recipe Pages
Harvest Moon
Story of Seasons
Official Artwork

This article is a disambiguation page - a list of articles with the same name.