Dia (MM)
Talk

4
1,912pages on
this wiki

Dia
Birthday
Winter 9
Rival
Kurt
Unlock By
Ship 30 herbs and unlock the Sanatorium.
Moves Out When
The player fails to ship enough herbs through the shipping box.
Appearances
MM, STH, HoLV
Dia is one of the marriage candidates in Harvest Moon: Magical Melody.
A very frail and sickly young woman, Dia is lonely and isolated from the rest of the town. She's come to Flowerbud Village with her nurse Gina to rest. She will stay in the Sanatorium once it's built and rarely leaves. Because of her poor health, Dia has little energy to go out. She can, on rare occasions, be seen taking walks.
Although she may seem uptight, Dia appreciates any visitors she gets at the Sanatorium. Besides Gina and Kurt, Dia rarely gets visitors. 
Locations
Inside the Sanatorium.
Inside the clinic.
Walking around just north of the Carpenter's shop.
Moving Out
Dia will move in when the Sanitorium is built, but will temporarily leave if she is not befriended to a high enough level, and if the player has failed to ship enough herbs through the shipping box. Gina will leave shortly after. In order for Dia to return to the village, ship herbs and flowers until she returns.
Gifts
During Birthday: "Oh, a birthday present... Th-thank you very much."
Loves Line: "Oh, this is my favourite. I'm happy. Thank you."
Likes Line: "Thank you..."
Neutral Line: "I can't thank you enough."
Dislikes Line: ""
| | |
| --- | --- |
| Loved | Strawberry, Cocoa, Blueberry, Emerald Ring, Emerald Brooch, Strawberry Jam, Very Berry Jam, Blueberry Jam, Blueberry Juice, Orange Balm |
| Liked | Very Berry, Orange, Grape, Apple, Chestnut, Moondrop Flower, Pinkcat Flower, Emerald, Coral, Topaz Ring, Topaz Brooch, Ruby Ring, Ruby Brooch, Sapphire Ring, Sapphire Brooch, Amethyst Ring, Amethyst Brooch, Aquamarine Ring, Aquamarine Brooch, Diamond Ring, Diamond Brooch, Coral Ring, Coral Brooch, Moonstone Ring, Moonstone Brooch, Silver Ring, Gold Ring, Sunny-Side Up, Plain Omelet, Cheese Omelette, Tomato Omelette, Mushroom Saute, Truffle Saute, Pancake, Hot Milk, Cocoa, Herb Tea, Potage Soup, Corn Soup, Tomato Soup, Pumpkin Soup, Mushroom Soup, Onion Soup, Stewed Pumpkin, Stewed Potato, Stewed Yam, Boiled Spinach, Stewed Eggplant, Marmalade, Apple Jam, Grilled Lobster, Grilled Shrimp, Pudding, Cocoa Pudding, Pumpkin Pudding, Cake, Cocoa Cake, Honey Cake, Orange Cake, Chestnut Cake, Cheesecake, Apple Pie, Pumpkin Pie, Chestnut Pie, Yam Pie, Strawberry Milk, Milkshake, Very Berry Juice, Orange Juice, Apple Juice, Grape Juice, Yogurt, Baked Yam, Baked Chestnut, Baked Corn, Purple Balm, Pink Balm, Blue Balm |
| Neutral | Purple Herb, Green Herb, Red Herb, Orange Herb |
| Disliked | Weeds, Fodder, Bird Feed, Stone, Junk Ore, Can, Boot (Left), Boot (Right), Toadstool Saute, Grilled Crawfish, Grass Juice, Failed Dish, Weird Dish |
Heart Lines
1st line: "I don't feel good. Please don't talk to me much right now."
Rainy day below 4 hearts: "I hate rain. It's gloomy and I get blue."
Rainy day above 4 hearts: "Rainy days are lonely, but one can have a lovely time doing things like making tea and reading books."
0 hearts: "I'm doing a lot of thinking. Please don't bother me right now."
1 heart: "I guess it's okay to talk for a little bit, but are you stuck with nothing to do?"
2 hearts: "It, it's... fine to talk. It will make a nice break from studying, so..."
3 hearts: "I had an operation and came here to recuperate, but my body.. is okay now. I just didn't want to be in the house.."
4 hearts: "Once my parents starting fighting, they tangled over many things. Gina recommended that I come here."
5 hearts: "I was unhappy and alone so I started acting selfishly toward Gina... Martha and the doctor.. I hate myself when I act like a child."
6 hearts: "You think I'm selfish and spoiled, don't you? Even I know it. I want to change myself as much as I can from here on."
7 hearts: "I want to be able to think about Mom and Dad in compassionate ways. I feel like I know more now about what it means to grow up."
8 hearts: "Being seperated from your parents... you're doing everything on your own. That's great.. I respect that."
If married to someone: "When raising a family, everyone looks busy but it seems lonely in a way."
9-10 hearts: "It's strange, isn't it? I dislike everyone except for Gina... But I feel I can be open when I talk to you."
Proposal: "You're Proposing? No...I'm scared... But the thought of you marrying someone else makes everything even worse... So... I accept"

After Marriage: "Good morning. We'll be sharing our personal space as of today, huh? ...Umm, what should I call you? ... ___... This is so weird."
Marriage Lines:
Line 1: "Now that I think about it, I've never done housework before. What should I do?"
Line 2: "I was going to learn about cleaning and stuff from Gina."
Parting Line: "Please, don't get sick."
Goodbye Lines: "Take care"
Heart Events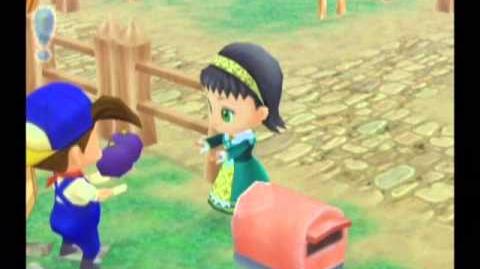 2-Heart Gift
Dia will come to your door as you leave in the morning (regardless of which gender you're playing as) when she reaches two hearts.
She will give you Blueberries as a gift, and you will also get the "Princess" note.
---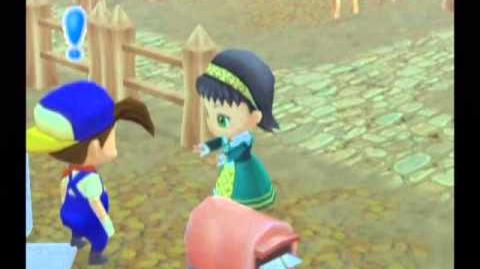 5-Heart Gift
Dia will bring a second gift at 5 hearts, if you are playing as a male character and she has five hearts or more.
Dia will knock on your door in the morning and will give you a piece of Chocolate Cake.
---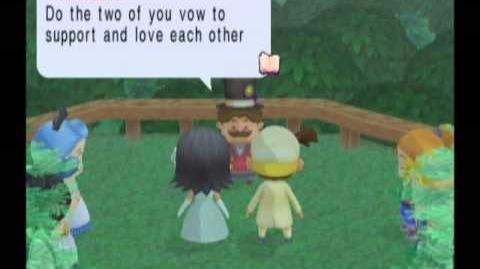 Wedding
After meeting all the of the marriage requirements and receiving your Blue Feather, the player will be able to propose.
Whichever character you're proposing to must have a minimum of 8 hearts. If they accept your Blue Feather, the wedding will take place the following day (unless the following day is a festival). The wedding will take up one full day.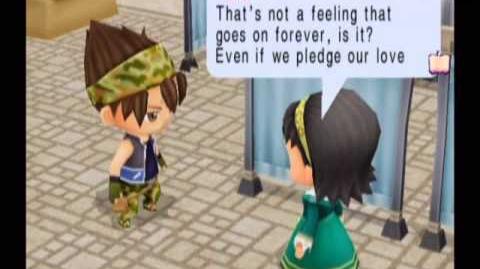 Rival
In Harvest Moon: Magical Melody, each bachelor and bachelorette can be paired off to what is considered as the main character's rival.  
Each rival couple has one heart event between them, but they will never marry. You must have 4 hearts with your rival (the person of the same gender), and the marriage candidate must have less than 4 hearts.
Dia's love interest is Kurt. Kurt and Dia's event takes place at the Sanatorium.
Musical Note
Dia provides you with the 86th musical note, "Princess", when she brings you a gift for building her friendship level up to 2 hearts.
Note Description: "A young lady who's a little haughty. But she's fainthearted and lonely. You just can't turn your back on her.