Ellen (エレン, Eren or Ellen) is the name of two recurring characters in the Harvest Moon series, although it is strongly hinted that the younger Ellen and the older Ellen are one and the same.
Appearances
Bachelorette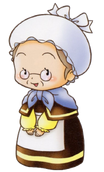 Old Woman
Gallery
Young Woman
Elderly

This article is a disambiguation page - a list of articles with the same name.
Ad blocker interference detected!
Wikia is a free-to-use site that makes money from advertising. We have a modified experience for viewers using ad blockers

Wikia is not accessible if you've made further modifications. Remove the custom ad blocker rule(s) and the page will load as expected.