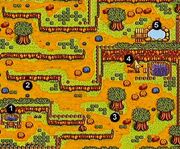 Fishing
in
Harvest Moon
is pretty simple.
If you want to go fishing, go to the mountain and talk to the fisherman. He is outside of his tent during the day. Just talk to him and say "Yes" when he asks if you want to go fishing, and he will lend you his fishing rod. Then all you have to do is press Y in front of the pond to go fishing. To the right is a map of the mountain. The fisherman is located at #4.
Shipping fish is a matter of season; in Spring and Fall, fish ship out for 300G, in Summer, fish ship out for 200G, while fishing is inaccessible in Winter.
Ad blocker interference detected!
Wikia is a free-to-use site that makes money from advertising. We have a modified experience for viewers using ad blockers

Wikia is not accessible if you've made further modifications. Remove the custom ad blocker rule(s) and the page will load as expected.