This article could be cleaned up to make it easier to read.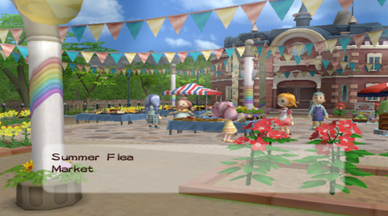 The Flea Market is an event that occurs on the 22nd of every month in the Waffle Town Square in Harvest Moon: Tree of Tranquility.
Stalls will be set up on this day, and vendors will sell special goods that they normally do not sell. Summer and Spring flea markets are typically identical, and Fall and Winter flea markets are the same.
Spring/Summer Vendors
Maya
| Item | Price |
| --- | --- |
| Cutting Board (Gorgeous Style) | 3000G |
| Pot (Gorgeous Style) | 3750G |
| Frying Pan (Gorgeous Style) | 3300G |
| Oven (Gorgeous Style) | 4050G |
| Mixer (Gorgeous Style) | 2700G |
| Aging Pot (Gorgeous Style) | 3675G |
| | |
| --- | --- |
| Rice Ball | 60G |
| Grilled Yam | 165G |
| Ostonaise | 480G |
Simon
| Item | Price |
| --- | --- |
| Pontana Root | 225G |
| Red Herb Seeds | 135G |
| Decent Wool Yarn | 375G |
| Apple | 225G |
| Glass | 45G |
| Plain Omelet | 240G |
| Bamboo Shoot | 315G |
Candace
| Item | Price |
| --- | --- |
| Cosmos | 75G |
| Snowflake Flower | 120G |
| | |
| --- | --- |
| Trend: Blue (Male) | 3600G |
| Trend: Red (Male) | 3900G |
| Trend: Yellow (Male) | 4200G |
| Trend: Green (Male) | 4500G |
| Trend: Purple (Male) | 4800G |
| | |
| --- | --- |
| Cute: Pink (Female) | 3600G |
| Cute: Yellow  (Female) | 3900G |
| Cute: Green  (Female) | 4200G |
| Cute: Blue  (Female) | 4500G |
| Cute: Purple  (Female) | 4800G |
Fall/Winter Vendors
Elli
| Item | Price |
| --- | --- |
| Cookie | 300G |
| Herb Cookie | 345G |
| Mont Blanc Cake | 870G |
| Shortcake | 1095G |
| Carrot Cake | 900G |
| Pumpkin Cake | 990G |
| Pumpkin Pudding | 495G |
| Pumpkin Pie | 645G |
| Chestnut Pie | 555G |
| Sweet Potato Cake | 660G |
Taylor
| Item | Price |
| --- | --- |
| Bunny Ears | 9000G |
| Top Hat | 5100G |
| Samurai Wig (Male ONLY) | 15000G |
| Bow (Female ONLY) | 15000G |
Julius
| Item | Price |
| --- | --- |
| Copper | 120G |
| Silver | 165G |
| Gold | 225G |
| | |
| --- | --- |
| Country Blue (Male) | 3600G |
| Country Red (Male) | 3900G |
| Country Yellow (Male) | 4200G |
| Country Green (Male) | 4500G |
| Country Purple (Male) | 4800G |
| | |
| --- | --- |
| Cargo Pink (Female) | 3600G |
| Cargo Yellow  (Female) | 3900G |
| Cargo Green  (Female) | 4200G |
| Cargo Blue  (Female) | 4500G |
| Cargo Purple  (Female) | 4800G |
Gallery