This article/section could be expanded to make it more useful or informative.
The Harvest Festival is a festival in Harvest Moon 64. The celebration occurs on Fall 12th.
In this version of the Harvest Festival, people display and comment on various foods to eat. Next year's Harvest King is also revealed at this time. The King plays an important role during some of next year's celebrations, including the Sowing Festival and Spirit Festival. In addition, the Harvest King will dance with the girl representing the Harvest Goddess at the Flower Festival. 
Although the Harvest King is revealed at the Harvest Festival, the person chosen for the title is decided randomly when the player goes to bed on Fall 11. In order to guarantee the title, the player must not save on the night before the festival. If they do not get chosen as Harvest King, the player can restart the system and try again.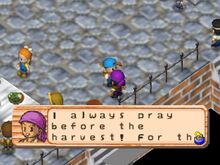 In order to receive the title of Harvest King, you have to eat the cake Elli offers you towards the end of the festival. If you find a coin inside, you are awarded the title of Harvest King for the following year.
The player should talk to each girl, as they occasionally cook something for the festival. They will ask the player to try their dish. Responding by saying "It's good" to get a small affection boost. After the King is chosen, the player will also have the chance to dance with one of the girls.[1]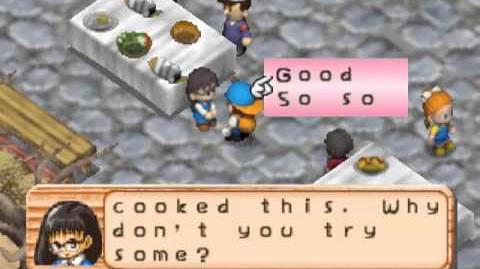 References
Ad blocker interference detected!
Wikia is a free-to-use site that makes money from advertising. We have a modified experience for viewers using ad blockers

Wikia is not accessible if you've made further modifications. Remove the custom ad blocker rule(s) and the page will load as expected.