The Harvest Goddess (女神さま Megami-sama, lit. Goddess) is a recurring character type in the Harvest Moon series. She's often regarded as a deity of sorts in the games. To see her various roles throughout Harvest Moon, see her appearances below.
Original Harvest Goddess
Gaia

She makes a small cameo in Story of Seasons on a television show using the name Gaia and she also sends you a thank you letter after you befriend Dessie.
Mariel
Save the Homeland Goddesses

Marina
Minna de Bokujō Monogatari Goddesses

Sephia
Dessie
Blue Harvest Goddess

Lady Galariel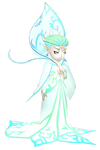 This article is a disambiguation page - a list of articles with the same name.