Harvest Moon Online
Talk

0
1,867pages on
this wiki
not
owned by Natsume. Its official name is Minna de Bokujou Monogatari, which in English translates to Let's All Harvest Moon. It is browser-based and is the only online version of the Harvest Moon series to date. The game is past the beta stage, and is free to play, although like most other free-to-play games you have the option of spending real money for extra items/abilities. This system in the game is called SP. Since it is in Japanese, it definitely helps to have a basic knowlege of Japanese when playing.
The game was closed on October 1st, 2012.
How to Register
This is a short guide on how to register for the game (click here to visit their official website) if you don't know Japanese.
1) Click the New Member Registration button.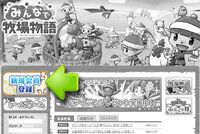 2) Clicking the button above will redirect you to a page where you have to enter your email. Enter a valid email and click the highlighted button shown below.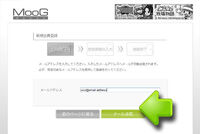 3) After that, you'll need to enter some additional information about yourself. The captions will tell you what each field requires.





4) Next are the Terms and Conditions. Once you have read through them, check the box underneath the text. After that, click the green submit button. It will redirect you to the account submission page. If everything is how you want it, click the green button again.
5) Go back to the main page and enter your username and password into the registration box shown below. Note that your login and password are case sensitive.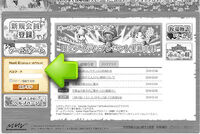 6) You are done! To start playing the game, click the white box shown below above the log-in box. The first time you play, you'll be prompted to enter a Nockname that other players will see while you play.