Ad blocker interference detected!
Wikia is a free-to-use site that makes money from advertising. We have a modified experience for viewers using ad blockers

Wikia is not accessible if you've made further modifications. Remove the custom ad blocker rule(s) and the page will load as expected.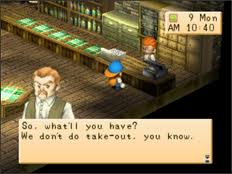 The Inn, also known as "Doug's Place," is a type of location and shop in Harvest Moon: Back to Nature. It is owned by Doug, who runs the business with his daughter, Ann. Business hours are from 8:00am to 9:00pm, every day except holidays
The Inn serves as a restaurant during the day and a bar after hours. The only telephone in the town is found at the Inn, which can be used to call the TV Shopping Network. Doug, Ann, and Gray live in the housing area in the back of the Inn. Cliff and Kai also stay at the Inn. There are several events that take place here, including heart events with Ann and a festival.
Inventory
Day Menu
| Item | Cost | Notes[1] |
| --- | --- | --- |
| Set Meal | 500G | Recovers 50 stamina and 10 fatigue |
| Salad | 300G | Recovers 10 stamina and 20 fatigue |
| Apple Pie | 300G | Recovers 30 stamina and 1 fatigue |
| Cheesecake | 250G | Recovers 20 stamina and 1 fatigue |
| Cookie | 200G | Recovers 10 stamina and 1 fatigue |
| Water | Free | Recovers 1 stamina |
Evening Menu
| Item | Cost | Notes[2] |
| --- | --- | --- |
| Grape Liquor | 500G | Recovers 20 fatigue |
| Pineapple Juice | 300G | Recovers 15 fatigue |
| Milk | 200G | Recovers 10 fatigue |
| Water | Free | Recovers 1 stamina |
Won's Shop
Won can be found selling a variety of unique seeds at the Inn, from 1:00pm to 3:00pm.
He sells the following items:
Spring seeds
| Item | Cost | Notes |
| --- | --- | --- |
| Cabbage seeds | 500G | |
| Toy Flower seeds | 400G | |
| Moondrop seeds | 300G | Becomes available after an event with Karen.[3] |
Summer seeds
| Item | Cost | Notes |
| --- | --- | --- |
| Pineapple seeds | 1000G | |
| Pink Cat seeds | 300G | |
Fall seeds
| Item | Cost | Notes |
| --- | --- | --- |
| Green pepper seeds | 150G | |
| Magic Red seeds | 600G | |
Other seeds
| Item | Cost | Notes |
| --- | --- | --- |
| Orange Cup seeds | 1000G | These seeds will only grow in the Hothouse. |
References