Katie (MM)
Talk

1
1,922pages on
this wiki
Katie
Birthday
Fall 29th
Age
18
Rival
Joe
Unlock By
Entering Café Callaway when it opens on Fall Day 1.
Moves Out When
Carl moves out of town and Cafe Callaway closes.
Appearances
MM, STH, HoLV
Katie
is a marriage candidate in
Harvest Moon: Magical Melody.
Somewhat naive and clumsy, Katie is always trying her best to succeed. Being young, she feels she is always underestimated, and feels frustrated when people don't take her seriously. She keeps a positive attitude, always smiling and laughing.
On the first day of Fall when the Cafe opens, Carl hires Katie to work at his cafe. She waitresses at the cafe, and is also trying to bake sweets, although she's not very good at it. 
Locations
Outside the entrance to Café Callaway (before it opens for the day).
Inside Café Callaway during business hours.
On Tuesdays (her day off), she spends time at the bridge above the Spring Farm.
Moving Out
Katie may come to the player's door one morning and explain thats she is leaving town. When Carl leaves town, Katie will follow shortly after. This happens when the player hasn't befriended Carl/Katie to a high enough level, or when enough baking products are not being shipped in the shipping box. Cafe Callaway will close until the two of them return. In order for Katie to move back into town, the player must ship items such as milk, eggs and breadfruit. 
When Carl moves back in and reopens Cafe Callaway, Katie will move back in a few days later.
Gifts
During Birthday: "Oh! A birthday present? You're very considerate. I'm happy. Thank you!"
Loves Line: "Yaaa! I'm touched! I'm very touched! I love it! Thank you!"
Likes Line: "Yaay, thank you! I'm happy. You're surprisingly considerate!"
Neutral Line: ""
Dislikes Line: ""
| | |
| --- | --- |
| Loved | Special Milk, Special Egg, Special Cheese, Special Butter, Breadfruit, Apple Pie, Apple Jam, Orange Cake, Yam, Diamond Brooch, Diamond Ring |
| Liked | Honey, Flowers (All), Eggs, Milk, Cheese, Butter, Moonstone, Amethyst, Diamond, Cocoa, Very Berry Jam, Pink Perfume, Marmalade, Potato |
| Disliked | Weeds, Toadstools, Chicken Feed |
Heart Lines
1st Line: "I was planning to move closer to town. But I didn't have enough money, so I'm saving up for it."
0 hearts: "If you get tired from work, come for tea! Sweets are good when you're tired!"
1 heart: "Watch me! I'm going to become a special cake chef!"
2 hearts: "I love cake! I get happy just looking at cake! The popular cakes are cool and wonderful.."
3 hearts: "Carl won't acknowledge my cakes. I wonder what's wrong with them? I think appearance is important too."
4 hearts: "I love talking about love! It's not that I like gossip, but I like listening to stories about romance. So, do you think the tool shop owner and the flower shop owner are in love?"
5 hearts: "I eat nothing but cake so I'm worried I'll get fat. My, oh no. I need to watch what I eat, so I can stay fit."
6 hearts: "My grandfather said, 'Love is most important for making cakes.' I wonder if that means I need to find someone I love? I really don't get it."
7 hearts: "Sticking to one's own opinion is important. But listening to opinions around you and reexamining yourself is also key. It makes me take stock in myself."
8 hearts: "Say, do you like younger people ____? No, I just wanted to ask. It doesn't mean anything."
8 hearts/Female Character: "I may long for marriage at some point, but I still feel like I want to be in love. Speaking of which, don't Carl and Ellen look like they're in love?"
If married to someone: "Hi! How's life for you two? I long for that!"
9-10 hearts: "I've... been a little weird these days. I've been thinking of you instead of baking cakes.. Weird, huh?"
Proposal: "How nice. I want to be given one, too. ...What!? Me!? No way! Are you kidding? Oh my... if you're serious say so. Of course I will! Yes!"
After Marriage: "Good morning! At last we're newlyweds officially today! Hmm, I need a lovey-dovey nickname for you, okay? ___, right? ____❤ Oh my, lovey-dovey!❤"
Marriage Lines:
Line 1: "Hee-hee. For the time being we'll be called newlyweds!"
Line 2: "I'll never forgive you if you cheat on me while I'm at the cafe."
Line 3:
Line 4:
Parting Line: "Guess what? I love you❤"
Goodbye Lines: "Okay, see ya!"
Rainy day below 4 hearts: ""
Rainy day above 4 hearts: "Don't you think making a cake would be a good idea for blowing away the gloomy rainy day dreariness? Oh me? I'm good!"
Gift Events
2-Heart Gift
Katie will come to your front door as you leave in the morning (regardless of which gender you're playing as) when she reaches two hearts.
Katie will give you some yogurt, and you will also get the "Waitress" note.
---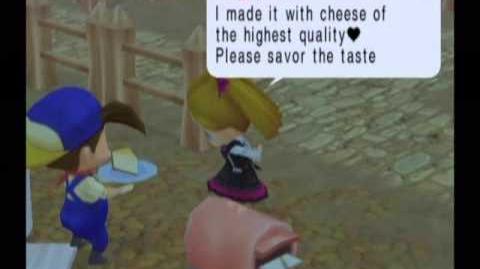 5-Heart Gift
Katie will bring a second gift when she reaches 5 hearts, if you are playing as a male character.
Katie will knock on your door in the morning as you leave and will give you a slice of homemade cheesecake.
---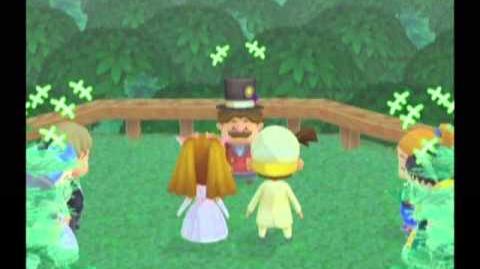 Wedding
After meeting all the of the marriage requirements and receiving your Blue Feather, the player will be able to propose.
Whichever character you're proposing to must have a minimum of 8 hearts. If they accept your Blue Feather, the wedding will take place the following day (unless the following day is a festival). The wedding will take up one full day.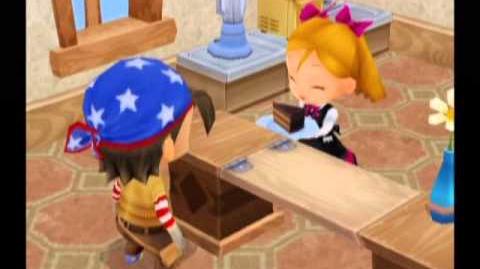 Rival
In Harvest Moon: Magical Melody, each bachelor and bachelorette can be paired off to what is considered as the main character's rival.  
Each rival couple has one heart event between them, but they will never marry. You must have 4 hearts with your rival (the person of the same gender), and the marriage candidate must have less than 4 hearts.
Your rival for Katie's affection is Joe. Joe and Katie's event will take place at Cafe Callaway.
Musical Note
Katie provides you with the 87th musical note, "Waitress", when she brings you a gift for building her friendship level up to 2 hearts.
Note Description:

"She dreams of being a master cake maker and falling in love. She's at that awkward age, though."