Mark is a recurring name for multiple characters in the Harvest Moon series. Both of them are player characters.
Appearances
Brown-haired Mark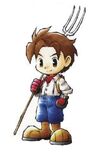 Mark (マークMāku) has brown hair, and is a player character in Wonderful Life series.
Blond-haired Mark
Mark (マルク Maruku, lit. Marc) has blond hair and is a player character and bachelor several Harvest Moon games on Nintendo DS.

This article is a disambiguation page - a list of articles with the same name.
Ad blocker interference detected!
Wikia is a free-to-use site that makes money from advertising. We have a modified experience for viewers using ad blockers

Wikia is not accessible if you've made further modifications. Remove the custom ad blocker rule(s) and the page will load as expected.