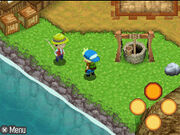 Character Bio
Martin is one of the fishermen on the archipelago. He lives across from Gannon's shop on Sprout Island.
Martin does not move around much, so you can find him in the early morning outside his door, inside the cafe later in the mornings, and then back to fishing by his house. After 3:00 pm he'll go back inside his house; if the day is not raining, he may venture back outside to fish around 8:00 pm.
When you are given a cat by Mirabelle, the cat you do not choose will end up living with Martin. As you raise your friendship with him, the number of cats he has inside his house will multiply. If you are at max friendship (10 hearts) then Martin will have 10 cats wandering around his room. You can pick up the cats, but you can't take them out of his house.
Likes & Dislikes
Likes: Fish
Dislike: Choclate Cake
Special (800 points):
Fish & Chips
Love (500 points):
Items:
Fish (L), Fish (M), Fish (S), Fish Fossil, Pirate Treasure
Cooked Recipes:
Apple Juice, Banana Juice, Blueberry Juice, Boiled Spinach, Bouillabaisse, Carpaccio, Carrot Juice, Elli Leaves, Fish Meuniere, Fish Sticks, Fruit Juice, Fruit Smoothie, Gazpacho, Grape Juice, Grilled Fish, Herb Salad, Insalata di Caprese, Lassie, Mixed Juice, Mashed Potato, Onion Salad, Orange Juice, Paella, Peach Juice, Pickled Turnip, Pickles, Pineapple Juice, Salad, Sashimi, Sashimi Bowl, Simmered Fish, Spaghetti Salad, Strawberry Milk, Sushi, Tomato Salad, Tomato Soup, Vegetable Juice, Vegetable Smoothie, Vichyssoise
Like (300 points):
Apple, Bamboo Shoots, Banana, Bell Pepper, Blueberry, Cabbage, Carrot, Chestnut, Corn, Cucumber, Edamame, Eggplant, Grape, Onion, Orange, Peach, Pineapple, Potato, Pumpkin, Raw Cut Seaweed, Sea Urchin, Soybeans, Soybean Flour, Soybeans, Strawberry, Turnip, Yam
Cooked Recipes:
Boiled Tofu, Cold Tofu, Corn Soup, Egg Soup, Herb Soup, Hot Milk, Miso, Onion Soup, Pumpkin Soup, Relaxtea, Relaxtea Leaves, Rolled Omelet, Seaweed Paste, Soy Milk, Spaghetti Soup, Steamed Turnip, Tempura, Toast, Tofu
Dislike (-500 points):
Hate (-800 points):
Horror (-5000 points):
Choclate Cake
See Also
Sunshine Islands
 

Characters

Protagonists

Bachelors

Bachelorettes

Villagers

Minor Villagers

Visitors

Others
Ad blocker interference detected!
Wikia is a free-to-use site that makes money from advertising. We have a modified experience for viewers using ad blockers

Wikia is not accessible if you've made further modifications. Remove the custom ad blocker rule(s) and the page will load as expected.