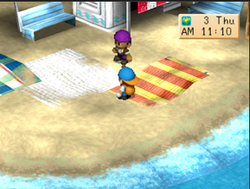 Mineral Beach is one of the locations found in Harvest Moon: Back to Nature. 
The beach can be found on the south-east part of the map, and is only accessible through the Town Square. The beach is where the Summer Festival and Fireworks Display are held. Kai runs his Seaside Shack from here during the Summer season as well. The player is able to fish into the ocean with the fishing rod from the beach's shore.
Festivals
Two festivals are held at the Beach, both during summer.
Ad blocker interference detected!
Wikia is a free-to-use site that makes money from advertising. We have a modified experience for viewers using ad blockers

Wikia is not accessible if you've made further modifications. Remove the custom ad blocker rule(s) and the page will load as expected.