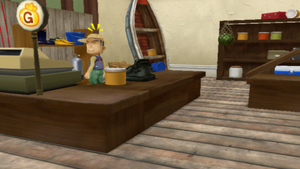 On the Hook
is a fishing goods store, located on
Waffle Island
in
Harvest Moon: Tree of Tranquility.
Ozzie is the owner and cashier of On the Hook. You will speak to him to buy goods, listen to fishing instructions or start a part-time job. Pascal, the elderly sailor, and Toby, the fishing fanatic, also work here.
On the Hook is open for relatively long hours, from 6AM to 10PM. It closes on Mondays and holidays. If you are planning on taking a part-time job here, it would be ideal to have the day completely open and your chores for the day completed -- the job wastes nearly an entire day.
Shop Inventory
| Item | Price |
| --- | --- |
| Grilled Clam | 195G |
| Grilled Squid | 210G |
| Grilled Horse Mackerel | 150G |
| Grilled Saury | 180G |
| Grilled Salmon | 405G |
| Grilled Sardine | 120G |
| Grilled Mackerel | 135G |
Ad blocker interference detected!
Wikia is a free-to-use site that makes money from advertising. We have a modified experience for viewers using ad blockers

Wikia is not accessible if you've made further modifications. Remove the custom ad blocker rule(s) and the page will load as expected.