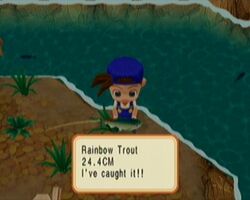 Rainbow Trout is a type of fish found in Harvest Moon: Magical Melody.
Game Description: "Lives in up/midstream in rivers. Pretty easy to catch. Tastes so-so."
A very common fish. Great for getting your fishing rod level up, or to give as a simple gift. Not worth much in gold.
Shipping Price
Rainbow Trouts are worth 35G, each.
Cooking
Fish and various other foods can be used in recipes while cooking. This grants larger shipping prices, as well as greater stamina recovery if the food is to be eaten. Rainbow Trout can be used in the following recipes:
Rainbow Trout Sashimi
Rainbow Trout Meuniere
Grilled R. Trout
Salted Rainbow Trout
Ad blocker interference detected!
Wikia is a free-to-use site that makes money from advertising. We have a modified experience for viewers using ad blockers

Wikia is not accessible if you've made further modifications. Remove the custom ad blocker rule(s) and the page will load as expected.