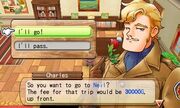 The
Travel Agency
is
Charles
' store in
Harvest Moon 3DS: A New Beginning
.
To get the Travel Agency you need to be working on Town Renovation Plan #4. Rebecca's shop has the blueprint for 2400 G. To build the agency, you will need to use 10 Brick, 10 Copper, 10 Lumber, 10 Small Material Stone, and 120 Material Stone.
Shop Hours
Open 10:00 am to 6:00 pm on Monday, Tuesday, Thursday, and Friday and is closed on days with stormy weather.
Trip Locations
Ad blocker interference detected!
Wikia is a free-to-use site that makes money from advertising. We have a modified experience for viewers using ad blockers

Wikia is not accessible if you've made further modifications. Remove the custom ad blocker rule(s) and the page will load as expected.