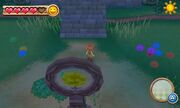 The Ancient Ruins
is a vacation destination you can go to via
Travel Agency
in
Harvest Moon 3DS: A New Beginning
.
Cost: 120,000 or 170,000 if to bring someone with you per trip/
Travel Time: It takes 5 hour to get there and you return at 10:00 PM.
How to Unlock: You have traveled to the other locations five times or more, Charles has to have at least 12,000 FP, and it is Winter of year 1 or later.
Colored Fragments
There are five colored fragments you can obtain from the Ancient Ruins. First Ashen Fragment you get from Eldridge after you have received the Large Totem Pole plan and you have visited the Ancient Ruins three or more times. Talk to him again on your fifth visit to receive a Colorless Fragment.
On your third or later visits to the ruins and if you have the Totem Pole plan, check the sun statue at the base of the pyramid to find the Crimson Fragment, the stone monument to the left of the sun statue for the second Ashen Fragment, and the obelisk to the right of the sun statue for the Amber Fragment. On your fifth visit to the ruins, investigate the fire at the top of the pyramid to find the second Colorless Fragment.
Plans
Check the totem pole by the entrance of the ruins to receive the Totem Pole plan. After that, talk to Eldridge and he will give you the plans for the Beacon. After you have constructed 10 Totem Poles at your workshop and you have the Beacon plan, talk to Eldridge again to receive the Large Totem Pole plan.
Witch Princess
You will need to find five Ancient Clay Figures from the here if you want to build the Witch Princess' house.
Items of the Ruins
Bugs: Emperor Cicada, Caucasus Beetle, Elephant Beetle, Hercules Beetle, Rainbow Beetle, Giraffe Stag Beetle, Aegis Dragonfly, Goliath Frog, Helena Morpho, Southern Butterfly, Emma Field Cricket, Mole Cricket, Mountain Honey Bee.
Fishing: None.
Fish Trap: None.
Foraging: Aloe, Ancient Clay Figure, Red Down, Green Down, Blue Down, Yellow Down, Orange Down, Purple Down.
Ad blocker interference detected!
Wikia is a free-to-use site that makes money from advertising. We have a modified experience for viewers using ad blockers

Wikia is not accessible if you've made further modifications. Remove the custom ad blocker rule(s) and the page will load as expected.