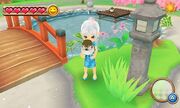 Land of the East
is a vacation destination you can go to via
Travel Agency
in
Harvest Moon 3DS: A New Beginning
Cost:
50,000 or 80,000 if to bring someone with you per trip
Travel Time:
It takes 2 hour to get there and you return at 10:00 pm.
How to Unlock:
Visit Snowland at least once and be Fall of year 1 or later.
Sakura
Sakura a young woman next to the house and the first time you talk to her she will give you Bamboo Fence, Bamboo Arch, and Bamboo Curved Fence plans. On your third visit, talk to her again to receive the Stone Paving, Stone Lantern, and Bamboo Fountain plans. Visit the Land of the East a fifth time and talk to Sakura to receive the Arch Bridge plan. She will also give you Strawberry Seed and Wasabi.
Hidden Plans
After you receive the Stone Lantern plan from Sakura, press A at the red table with the umbrella to receive the Tea Table and Parasol plans.
Master Rod
You will have to visit the eastern land a few times if you want to construct the Master Rod for fishing. After you befriend Kosaburo and receive the blueprint for the Master Rod, you can craft it by combining a Fishing Rod, 5 Bamboo, and 1 Orichalcum from the ore mine. Bamboo is an item that can only be fond here.
Items of the East
Bugs:
Singing Cicada, Emperor Dragonfly, Genji Firefly, Pacific Firefly, Southern Firefly, Winter Firefly, Spotted Pond Frog, Purple Emperor, Migratory Locust, Mole Cricket
Fishing:
Sweetfish, Pale Chub, Carp, Salmon, Shishamo, Sea Bass, Loach, Large Loach, Three-Lips, Funa, Large Funa, Bluegill, Honmoroko, Trout, Blotch Snakehead, Large Snakehead, Koi, Pine Decoration plan, Orange Clovers plan, Brown Diamond plan, Emerald Fragment
Fish Trap:
None
Foraging:
Bamboo, Plum, Pine Branch, Cherry Tree Branch, Ginkgo Branch
Ad blocker interference detected!
Wikia is a free-to-use site that makes money from advertising. We have a modified experience for viewers using ad blockers

Wikia is not accessible if you've made further modifications. Remove the custom ad blocker rule(s) and the page will load as expected.