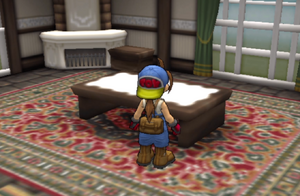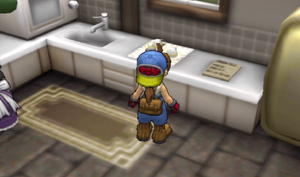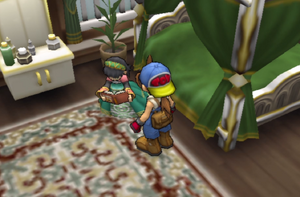 The Villa is the home that Dia, Gina, and Martha live in together in Harvest Moon: Save the Homeland. 
The Villa's kitchen will be locked if Martha or Gina are not in there. Usually, it's open between 8am-2pm and then it'll reopen from 6pm-10pm when they lock the Villa doors. It's a good place to sell your crops and produce since they will buy all types of crops and produce (compared to the other shops like the Cafe and Ronald's that will only buy certain items).
There is also a living room on the bottom floor where Gina or Dia can sometimes be found. Upstairs, Dia has her own bedroom where she spends a lot of her time. There is another room upstairs, but it is inaccessible. 
Selling Prices
| Item | Price |
| --- | --- |
| Egg | 50g |
| Milk S | 150g |
| Milk M | 200g |
| Milk L | 300g |
| Milk G | 400g |
| Potato | 80g |
| Tomato | 80g |
| Corn | 120g |
| Breadfruit | 100g |
| Cheese | 500g |
| Yogurt | 350g |
| Meduim Fish | 80g |
| Large Fish | 120g |
| Herb | 10g |
Ad blocker interference detected!
Wikia is a free-to-use site that makes money from advertising. We have a modified experience for viewers using ad blockers

Wikia is not accessible if you've made further modifications. Remove the custom ad blocker rule(s) and the page will load as expected.