Witches are recurring character type in Harvest Moon series. They often seem to like to cause people trouble, but not in a harmful way. Witch Princess is the witch the one who shows up the most.
Witch Princess' Appearances
Also known as Witch-sama (魔女さま Majo-sama) or as just 'Witch' in Story of Seasons
Witch Princess's Niece

Witch-chama (魔女ちゃま
Majo-chama
) or Witchkin and Witchie in English versions.
Vivi

Tabitha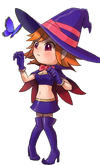 Narcia

Gallery
Witch Princess

This article is a disambiguation page - a list of articles with the same name.
Ad blocker interference detected!
Wikia is a free-to-use site that makes money from advertising. We have a modified experience for viewers using ad blockers

Wikia is not accessible if you've made further modifications. Remove the custom ad blocker rule(s) and the page will load as expected.