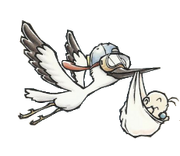 Your Child
is a recurring character type in the Harvest Moon and Story of Season series.
In that you can have a child or even sometimes children In a most of the games after getting married.
Your Child can be of either gender in current games but older games it was common to have them only be male. To see Your Child's various roles throughout Harvest Moon, see the appearances below.
Appearances
Andy
Andy was shown to be default name for your child in the Wonderful Life series as well in DS & DS Cute as in Harvest Moon: My Little Shop as he shows up as a NPC.
Island Children
The Lost Valley/Seeds of Memories Children
Story of Seasons Children
Artwork

This article is a disambiguation page - a list of articles with the same name.
Ad blocker interference detected!
Wikia is a free-to-use site that makes money from advertising. We have a modified experience for viewers using ad blockers

Wikia is not accessible if you've made further modifications. Remove the custom ad blocker rule(s) and the page will load as expected.