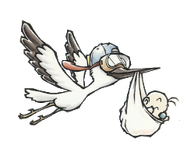 Your Child
is a recurring character type in the Harvest Moon and Story of Season series after getting married. Some games allow players to have only one child, some other have two children.
In older games, like Friends of Mineral Town and boy version of Harvest Moon DS, Your Child can only be male; they won't age anymore and stay at Toddler stage forever. But in current games, Your Child can be of either gender in current games; instead of just at baby stage, they can grow from baby into full-grown one.
To see Your Child's various roles throughout Harvest Moon, see the appearances below!
Appearances

Andy
Andy was shown to be default name for your son in the Wonderful Life series as well in DS & DS Cute as in Harvest Moon: My Little Shop as he shows up as a NPC.

Island Children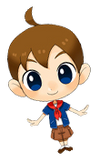 The Lost Valley/Seeds of Memories Children
Artwork

This article is a disambiguation page - a list of articles with the same name.